Hi all--this is an introduction to our trip to southern Africa from March 18 through April 15, 2003. Please let me know if you'd prefer not to get the letters or if there's someone else you'd like to have me include on the list.
We flew from Charleston to Atlanta and then directly to Johannesburg. Our travel agent was kind enough to give me a complimentary ticket with seating upstairs on the South African Airways plane, which was very nice, and we did get some sleep, which is sometimes hard on the daytime flight from Atlanta.
We stayed two nights at the Sandton Sun Hotel in Joburg as sort of a deja vu since we had stayed there twenty years ago also. It was one of the first luxury high rise hotels in the city and is still a great hotel with more service than you know what to do with. The India and Australia World Cup Cricket finalist teams were staying there too, so there was lots of excitement.
We had dinner the first night with our internet friends, graphic designer, Shirli Hill and her husband, well known photographer, Bruce Hill, of Twin Peaks Studio.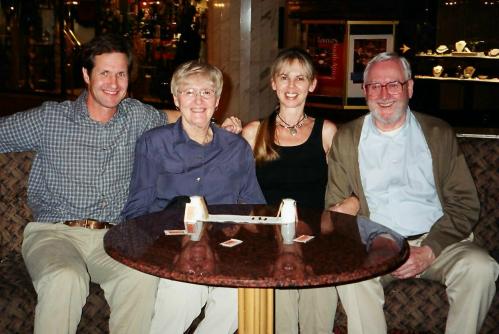 The next day we had lunch with old birding friends, Jill and Brian Collis, and then supper that evening with former business friends from when Bill was associated with the company in South Africa, Catherine and Robert Ebden. It was wonderful to see everyone again.
But on the animals! We flew to the new Mpumalanga/Kruger Gateway airport in Nelspruit and rented a car. We had been concerned about the drive from the airport to Kruger because of several recent crimes against tourists in that area, but there is a new road straight to the N4 going through no towns and we were at the Malelane Gate into the Park in no time. We bought some fresh fruit at a stall just before the bridge over the Crocodile River and then we were in the Park. I made Bill stop on the bridge so I could photo the first thing we saw, which was a saddlebilled stork, quickly followed by a giraffe and a kudu crossing the road. I didn't even have the good camera out yet so these are with the 'point and shoot'.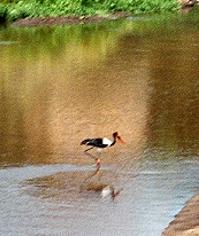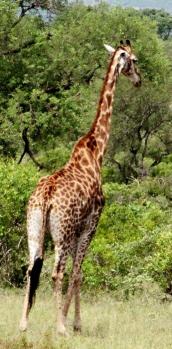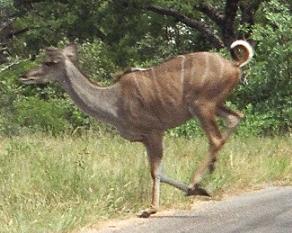 Yay !!! We are with the animals again. More to follow.................