The trip begins.... For those of you who only want to see animals, you'll have to wait because we went first to the Namib Desert. We flew from Atlanta to Johannesburg--much nicer than from New York or Miami. We went directly on to Windhoek, Namibia, where we stayed at the Hilltop House. The German influence in Namibia is still very strong even though they've been independent for 80 years.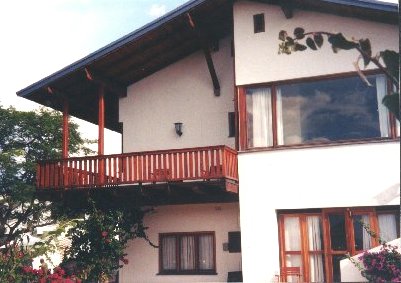 We had breakfast on the terrace by the pool overlooking the city.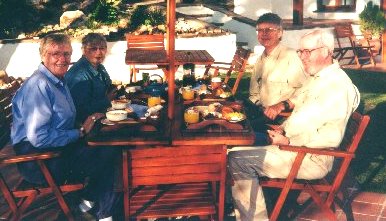 The next day we flew to Sossusvlei Camp in the Pro-Namib, or pre desert area. The landscape was other worldly with beautiful colors. We were very lucky to see it with green from the heavy rains in February. Ordinarily it's all brown. The pinks in the background are the beginning of the huge dunes of the desert.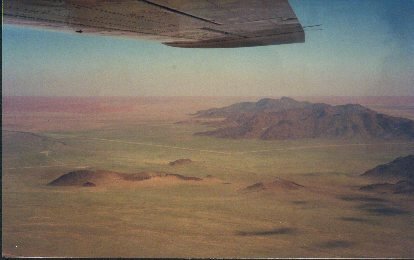 We got a lot of air viewing because, although he didn't tell us till after we landed, our pilot was having trouble with the landing gear. You can just make out the camp on the front hillside. What a fabulous and different sort of terrain than we had ever seen before.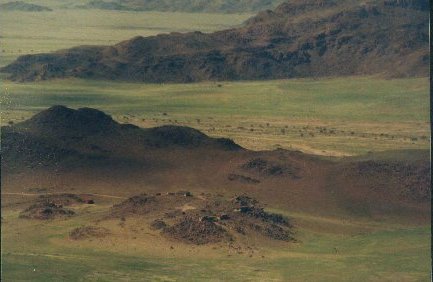 Here's a closer shot of a bungalow. They were stucco over block with thatched roofs and had full baths overlooking the expanse of the grassland. They had AC, but we didn't need it since it was fall. Meals were served in a central lodge. The meals here, as everywhere on our trip, were huge and delicious. (In spite of that, the manager put Tabasco on everything--even his morning toast.)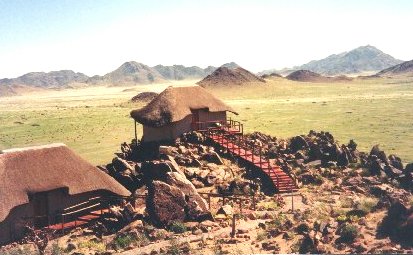 Here is Ivan, our guide, ranger, driver, who took us out very early to see the desert, late to see the canyon, and really early for our hot air balloon ride. More on those shortly.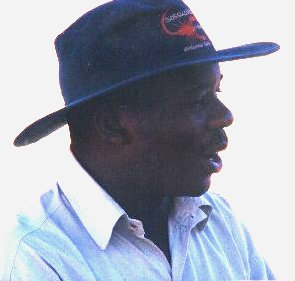 He had a wonderful sense of humor and often we didn't know whether to believe him or not. He was very knowledgeable about all the flora and fauna of the region as were all the guides we had on the whole trip.
Click on the

cheetah for the next page.


Part One Home