One day we had lunch at a little outdoor place on the beach of Fish Hook Bay.
This was the view from our table.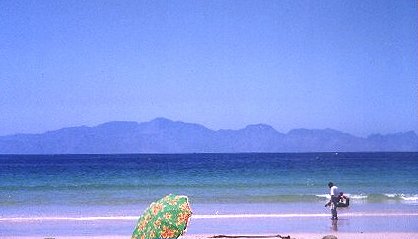 Looking left we could see down the beach. It wasn't this quiet the whole time. School groups arrived an ruined the tranquility.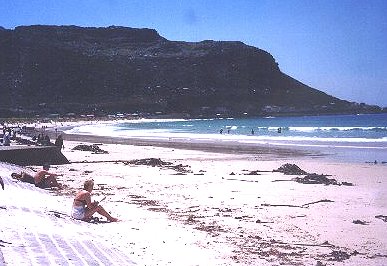 Looking to the right we could see up the hillside to where our hosts lived--right near the top of those houses.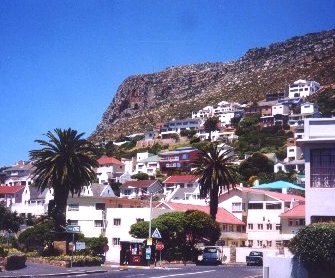 With the zoom lens, you can see the house. Xmarks the spot. Gaye was with us and we cell phoned Vic to come out and wave so we could tell which house it was. He also put out the American flag for us.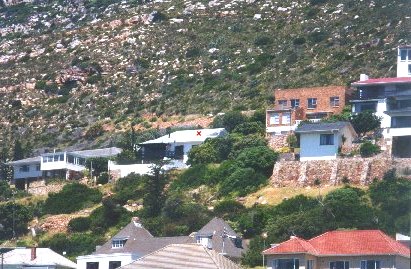 We went up to the house later for a wonderful dinner of traditional South African specialties, including babootie, which Gaye and Vic prepared. It was a totally delightful evening and way above and beyond what guides ever do. If I were them I couldn't resist showing off their idyllic location though either. This is the late afternoon view from their front porch. They see whales all the time from up here.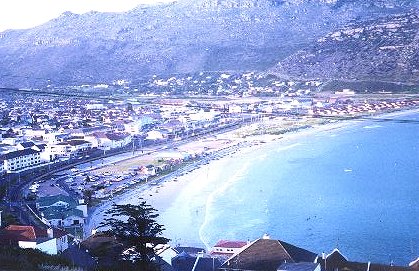 Zoomed in--so you can see the traditional colorful bath houses by the beach. The kelp on the beach is raked up and gathered daily for commercial uses. In the upper right you can see the yellow end of the commuter train that runs into the city.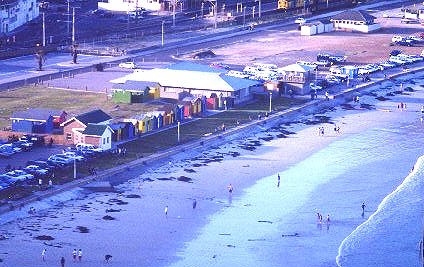 Here's the view showing the flag put up to announce that they have guests from the USA. We appreciated the patriotic gesture since it was only six weeks after 9/11.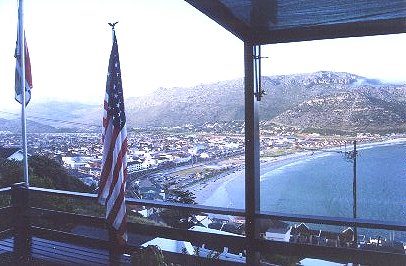 Looking a little to the right you can see two points which shows how these little bays make such nice places to live.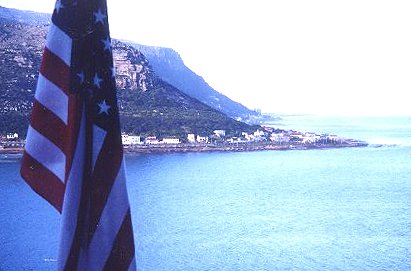 As dusk fell, we saw the moon come up over the mountains to the east across False Bay. As it rose it made a shimmering path across the water to us. Gaye said they often see whales playing in the moonlight there. Sigh............