Since we were there in 2000, the airport at Phalaborwa has been totally rebuilt and is spectacular! It's very different and although still small, very exciting and perfect for the new gateway to the game reserve area of South Africa and the Kruger National Park.
Here are two views the traveler sees on arrival.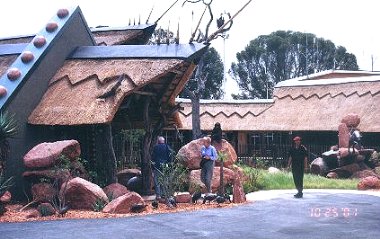 Don't miss the bronze vulture in the tree at the left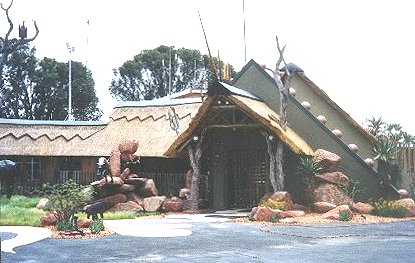 There are wonderful bronze sculptures of wild animals all around. Can you see the leopard leaping towards you from that pink rock left of center?
There are several baboons, including one sitting up near the rafters in a leadwood tree that forms one of the interior columns.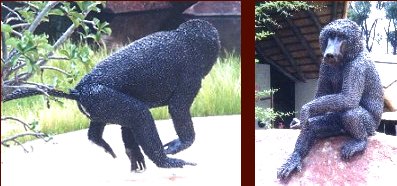 The life-size drinking giraffe is very realistic.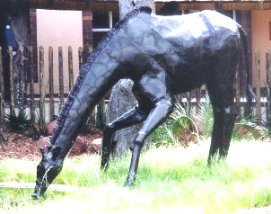 I don't have interior shots to show you unfortunately. The restrooms are spectacular. They have black marble slabs rather than sinks and when you press a rock, water sprays up for you to wash your hands and rolls down the slab away from you like a small waterfall. Cool teeny lights everywhere also.
There are all sorts of animal footprints in the flooring leading up to the baggage pick up rack. The main area flooring is zebra striped.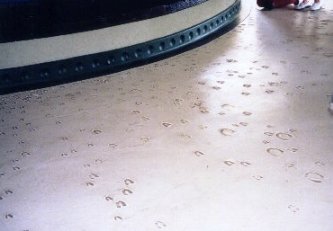 Here's how the airport entrance looks as you drive up.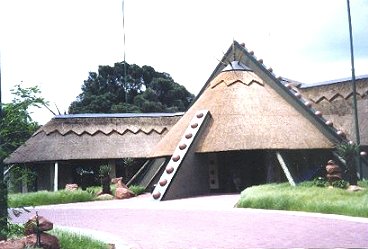 Perfect for Africa, don't you think?