Tony and Erika met us in the van they had gotten for our trip into the Kruger Park. It's called a Kombi and because you sit up high it's great for seeing game. Best of all, we all could fit in together.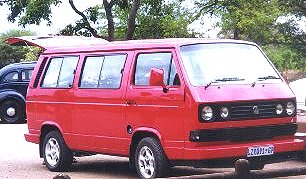 Being the noble people that we are, I sat in the back by that teeny window and Bill sat on the other side where the teeny window doesn't even open. Frank sat next to Tony, who drove, and the majority of the animal pictures are probably from Frank's camera. (We had a slight disaster here at my computer--the box of photos fell and now I really don't know who took what. Let's just say the best ones are mine!). First we stop by the Cheetham's house to load up.
Since we were in Phalaborwa visiting Cheethams in 2000, they too have done great things to their house. They have added a whole open air living area across the front of the house with a lounge and dining room, including a fireplace where Tony can cook some of his famous gourmet meals.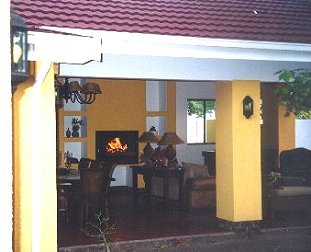 How wonderful to be able to live out in the air like that. Fortunately their climate is suitable too. They gave a lovely dinner with some friends from Tony's work that evening. Out front of the living room they have added a lovely pool. We had a chance to dip in after our days in Kruger.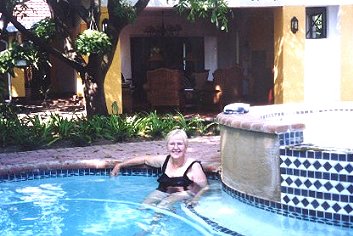 The next morning we had to get all the food and clothing and cooking gear for six people for four days in the van. Where will it all fit?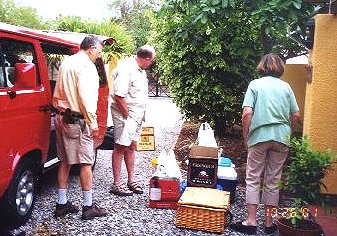 It all did get in though. Sorry Erika, no room for those suitcases with your clothes. Actually we put two suitcases between Bill and me and off we went.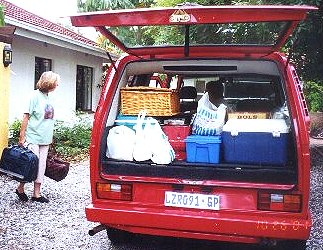 And in five minutes we were at the Phalaborwa Gate into the Kruger National Park! Do they live in a convenient place, or what!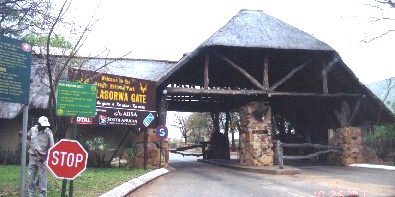 Our first two nights were at Oliphants Camp, an old favorite of ours, which took a few hours to get to, since we stopped for breakfast and looked at animals all the way. I've decided not to try to show the park chronologically, but by type of animal, since we saw so many different ones every day. There will also occasionally be a letter about the facilities in the park too. Hope that's okay with you. Too bad if it's not!