We got into another one of those teeny planes and flew to Mombo Camp in Botswana. You can see why we were only allowed 26 pounds of luggage each, since these little airplanes had to carry all of us and all of our luggage plus the pilot and often another guest.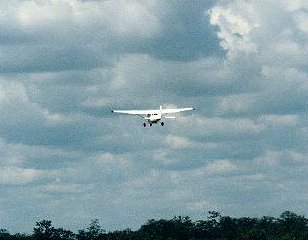 First, of course, before you can land, someone has to shoo the elephants off the runway. I use the term runway loosely--the sort of smoothed place in the grass would be more accurate. The elephants came right back, so we chased them off again in the Land Rover before we drove to camp so that the plane could take off.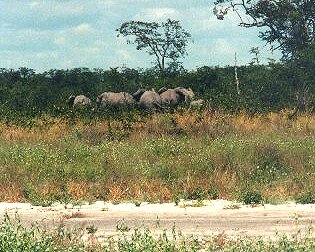 This shot of the final approach to Mombo Camp is a good example of the road condition from the flooding rains. The vehicles had the air intakes up high with snorkel attachments and the water often came over the hood as we went around on game drives. Many of the areas we had gone to in 1998 were not even passable.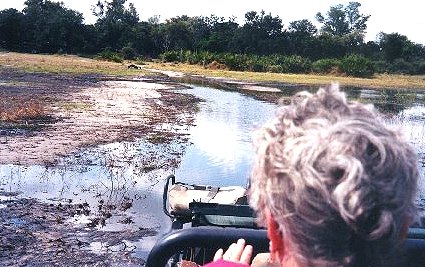 Here's the main lapa/boma at Mombo. It has a bar, dining room, lounge area, small library, and a curio shop behind it. On the deck in front there is a big pit for a fire to sit around and a plunge pool.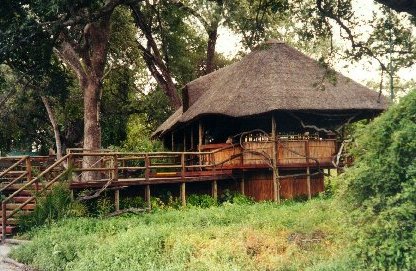 Here's our tent. People always worry that we stay in tents, but as you can see, these are not pup tents. They have a second tent attached to the back with a full bath (with lots of towels and terry robes) and they are nicely furnished with the basics that one needs, like beds with mosquito nets, a cupboard with shelves and hanging space, night tables, lights, chairs, mosquito coils and repellants, and an air horn to call the staff in case of an emergency since you wouldn't want to step outside at night. There are always resident lizards and frogs, of course, but they don't bother you if you don't bother them. There was a frog on our shower hot water faucet the whole time we were there--but no mosquitoes!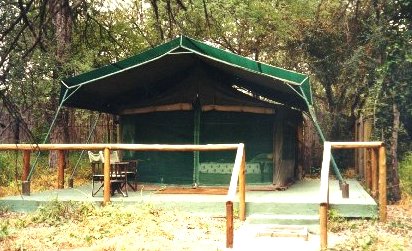 Copper, a wonderful fellow, very knowledgeable and fun, was our guide and driver--very skilled at the flooded, rutted roads too.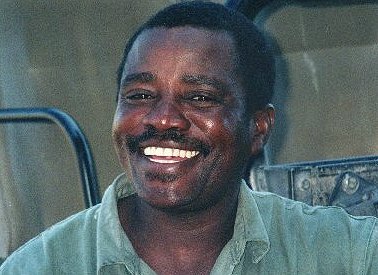 Mombo Camp is known for having the best game in all of Africa at the present time. Even the other camps will tell you that. They are nearly finished building an entirely new facility which will still be tented, but rather luxurious tents, and the price is doubling as soon as it's ready. If you can only go to Africa for a couple of days though, that's the place to go. I'll start showing some of the terrific animals from Mombo in the next letter, but meanwhile we'll have sundowners by a termite mound.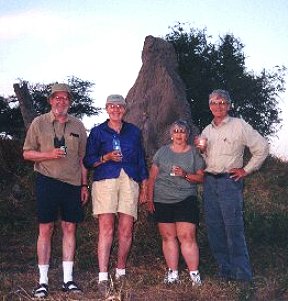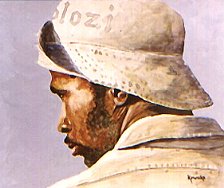 Click on Tracker Richard Suwelo to go to the next page.


Part One Home