I know you're all waiting for animals, but I have to show you a couple of things about Etosha first. Here's the Pan--it goes on forever and ever--flat, dry and empty. Even from the air it looks unreal--like the end of the world. When we were there, there was a little haze of grass from the rains and some zebra and gemsbok went out there, but they looked so desolate and alone, like outposts.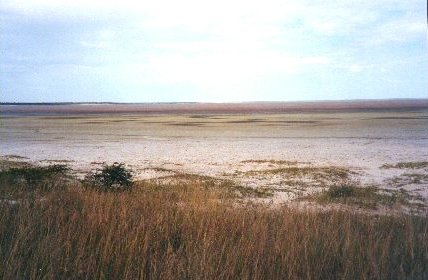 We stayed at Mushara which is sort of a hotel/motel except that the accommodations are lovely separate rondavels and they have a world class restaurant.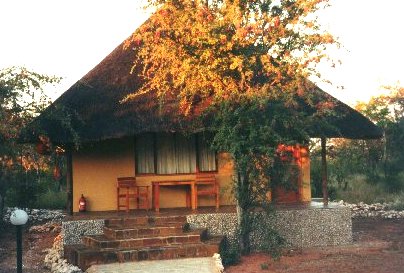 Many of you have heard me speak of my friend, Cherie Pittillo, the nature photographer. She lives in Namibia at the present time and was able to come stay two nights at Mushara also. It was a highlight of our trip to be able to see her.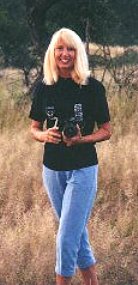 Mushara contracts out it's game drives and are changing firms right now so I know the guiding and the vehicles will be improved. I'll have to say that "Stretch", our guide, who has never quite left the '70s, was excellent at finding the animals, but he gave very little information and was actually rude a few times--the only guide on our eight trips to Africa that I have ever had a complaint about. But we did see animals and I really liked that!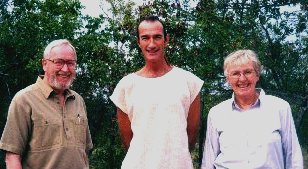 The real hero of the whole trip was the new co-owner at Mushara who repaired my camera! Here we were on the third day of the trip, and my new 80-400 zoom lens wouldn't focus beyond 15 feet. Our hostess said to let her husband, Reini, look at it--he was good with his hands. There was nothing to lose, because it was stuck totally. Reini took the entire lens apart, had all the many, many pieces laid out in a row, and found a bent ring, which he straightened and then put the whole thing back together and it worked beautifully the whole rest of the trip--a true miracle!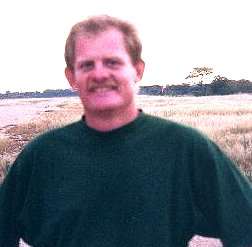 Sorry I didn't get a better picture of this miracle worker. The owner of Mushara said Reini can fix anything at all and is the perfect person to have at a hotel. He had been at a neighboring hotel previously that we almost stayed at, but we're so glad we didn't--it holds 240 people and their game drives are in converted army trucks with eight rows and people sitting five abreast. We were just the four of us on our drives which is great.
If you sit at one of the waterholes in the Etosha Park, you will eventually see everything. Here are a couple of shots of many animals at a waterhole and then the next several letters will feature individual species and some of the other things we saw.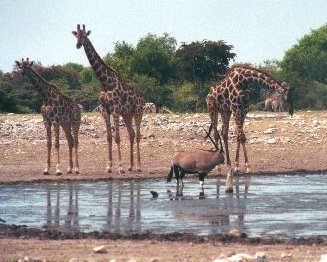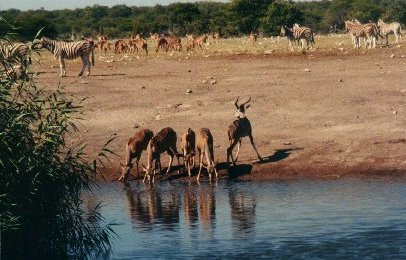 Giraffes, gemsbok, zebra, kudu, impala, eland, wildebeest.
Close ups of lots of things to follow. You'll have to look at some small stuff before we get to the big stuff. It's nice to have a captive audience.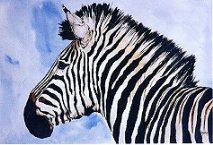 Click on the zebra head to go to the next page.


Part One Home