As it turns out, balloon ride pictures are better when you're not in the balloon, but we did find it very exciting anyway. My friends and relatives can't believe I did it because I won't go near any sort of ride at a Fair, but I felt really safe in the basket and was glad it was not a real windy day, so we had a comfortable ride. We got up before 4:00 in order to be well up in the balloon before the sun came up. Here they are beginning to fill the balloon.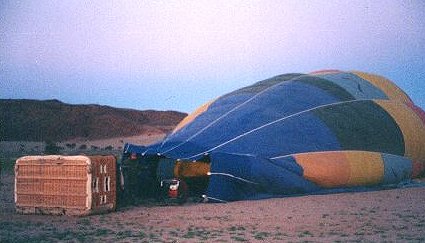 Then it starts to go upright.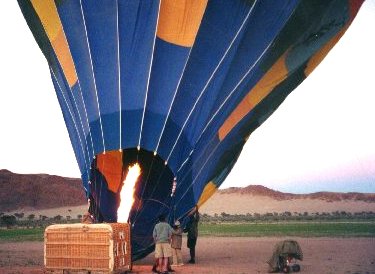 Finally it's filled and we can climb in. It's huge!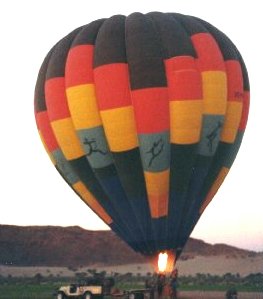 The little village looks very teeny as we ascend.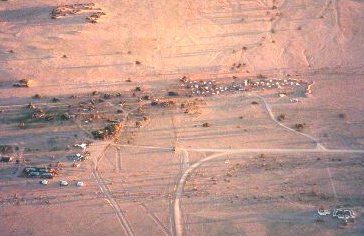 The rising sun touches the landscape.


Miles and miles of red sand. See our shadow?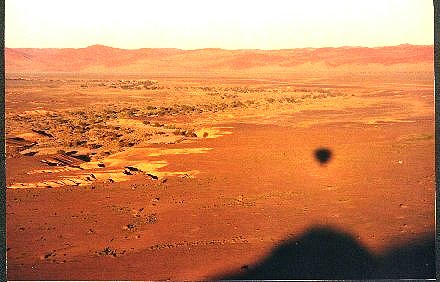 As we came up on a plateau we are closer to the ground. We saw a few animals, but this environment is not very hospitable to game.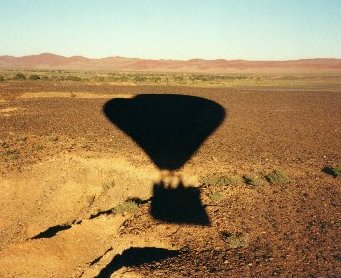 With a light wind and the help of terrific guys in his ground crew, our pilot landed the balloon basket right on this 6' x 6' trailer !!! Most impressive--and much easier for the guys to load it up to take home.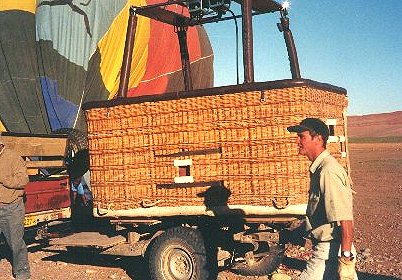 Our pilot's name was Theirry. He was from Belgium, had been in Namibia less than a year and spoke almost no English--but he sure could balloon! We got our certificates and the mandatory pic with the pilot.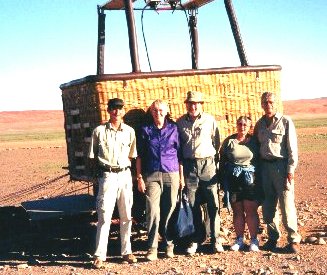 Then we had the traditional champagne breakfast under the only tree for miles around.

We almost fainted when we saw that it was now only 8:00 in the morning! We flew later that day to Mushara by the Etosha Pan. Yes, animals soon.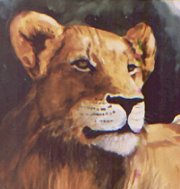 Part One Home