These Cape Town letters are not in any sort of chronological order at all--just groups of pictures. On one of our rides, Vic and Gaye took us to an outdoor sculpture market. As you can see the art ranged from very small on the table to very large in the background. There must have been a thousand pieces to choose from. I got a little obsidian whale since the whale sightings had been so exciting a high light for me.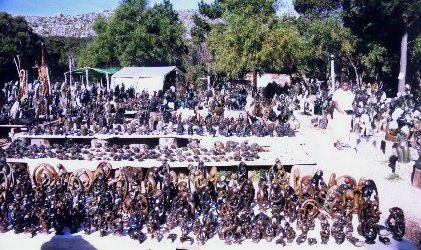 It was very interesting to watch these men at work. They used wet rough cloths to wear away the sand stone like this fellow is doing to the hippo in the middle. The giraffe is a different stone and is polished to a high sheen. The bird in the back is a wooden carving.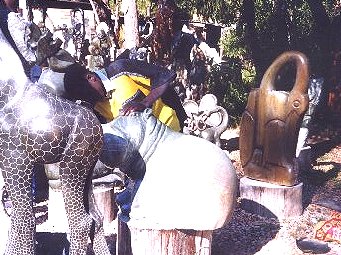 Behind this fellow working on an elephant statue, you can see one of the modern abstract pieces and some even larger wooden birds.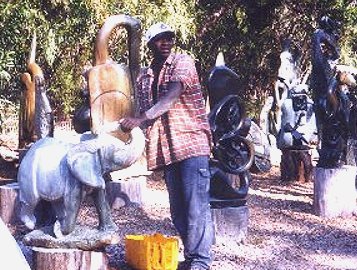 Here's another even larger elephant. You can see they really know their animals and are very talented and skilled artists. It was impossible to tell if they were selling just the ones they did themselves or if the market was selling them all and paying the artists a percentage afterward. There was some hawking by the individual sculptors to 'buy this one', but not aggressive at all.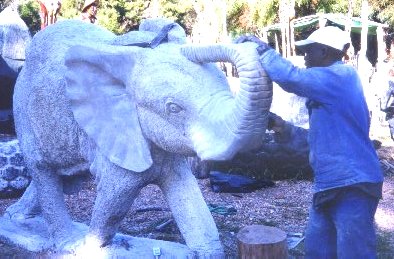 Here we are at a place where we had a perfect lunch. It's out of order because it was on our last day and I still plan to show you several letters from the Cape of Good Hope, but there was space in this letter.
Bill, Bruce, Marge, and Frank reading the menus as we enjoyed a drink in the garden before lunch.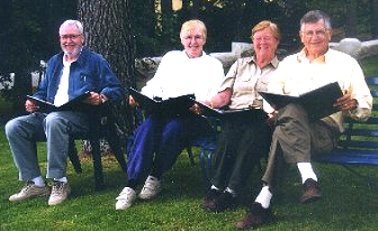 Vic, Gaye, Bruce and Bill. If you ever want someone to show you around the Cape Town area, we heartily recommend these two! Very knowledgeable and reasonable too--besides being loads of fun!