The weather was in and out clouds and sometimes haze, so it was difficult to get quality pictures as we drove around the hill of Cape Town. It was one magnificent view after another.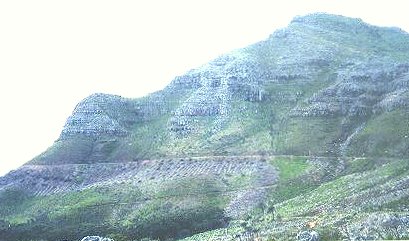 and another--Signal Mountain (I think!)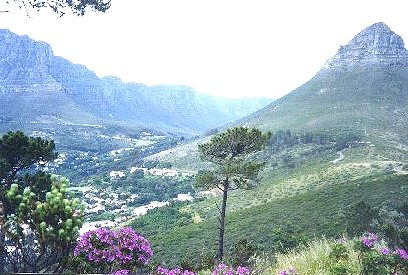 This is looking back at Table Mountain from a lovely park on the southeast side of the city.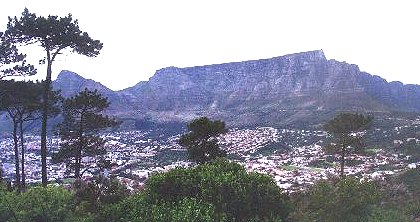 Zoomed in a little, you can see where the gondola goes up to the top of Table Mountain, marked with red arrows.
Gaye went along with Marge and Frank to the top. I don't 'do' swinging and simultaneously rotating gondolas and decided I was mature enough to not give into peer pressure and just said no to going up there on this trip.
Frank's view from the gondola looking back at where they started, with the Atlantic in the background and Robben's Island, of Mandela fame, to the left upper side of the picture.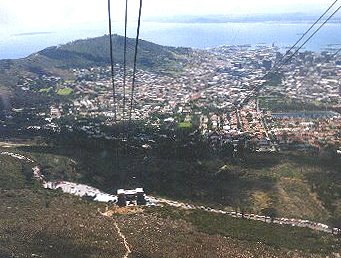 Frank's view towards the top also justifies his purchase of a polarizing lens when the clouds moved by briefly. (Also justifies my not getting in that gondola.)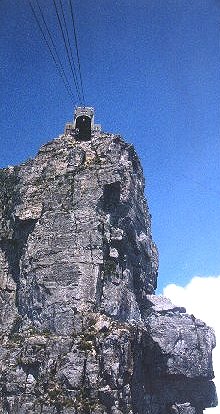 View from the top in the other direction. Pretty spectacular, huh?!?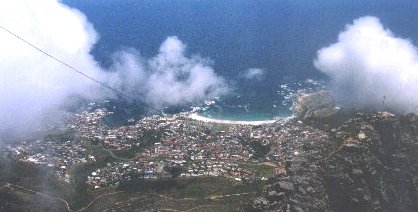 I would have enjoyed being this close to hyrax or rock dassie. Only about 20 inches/50cm long, they are very cute even though they are related to elephants.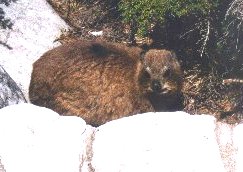 As it turned out, their timing was perfect. Shortly after they came down, the gondolas stopped running because the clouds came in and totally obscured the top of the mountain.