The other camp in the Kruger Park that we stayed in was Lower Sabie. It's quite a bit further south in Kruger Park and in a different habitat--more lush and green. This camp was badly damaged by the devastating floods of early 2000 and then had a big fire too. It's in the midst of a lot of renovation and will be very nice when it's done. The restaurant and store were both sort of in temporary quarters. Some of the cabins/rondavels were new or refurbished--Tony and Erika's was, ours wasn't, but it was still fine--just not quite as well kept as we had come to expect. This is where we stayed--it's a duplex. Someone had moved the fridge inside--we just turned it off at night because of the noise. At least the baboons couldn't get it there!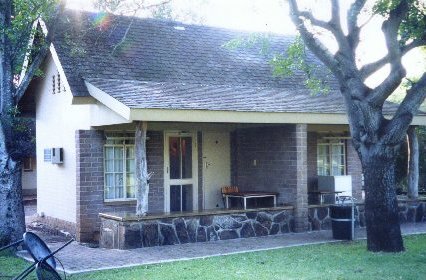 Here's Erika and Tony's cabin which was facing the river. There were benches all along for one to sit and contemplate nature. In the evening a hyena went back and forth along the outside of the fence at the riverside. We could hear hippos in the river.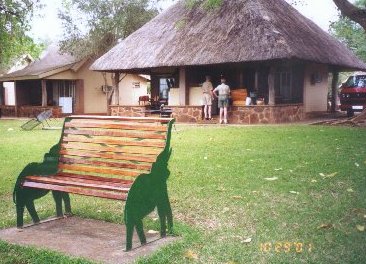 Here's another one of those amazing luggage ladies.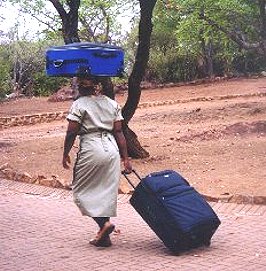 After our all day game drives, we often took naps, and then in the evening gathered at the Cheetham's cabin, had our drinks, and enjoyed one of Tony's exceptional meals. They had a big table on their porch and we brought chairs from our places too. Then we'd finish the evening with Amarula and were in bed before ten so we'd be ready to go again early in the morning.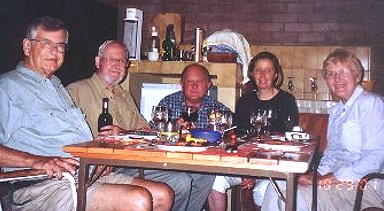 One of the benches along the river was given in honor of and dedicated to our friend, Shirli Hill's, Dad. Among our group of e-friends from all over the world it's a tradition to have your picture taken sitting on the bench. Here are Tony and I becoming members of that special few who have sat on The Bench.