We always ate our breakfasts and lunches out--literally--out of doors in the various areas that the park has made for picnics. We had some lunches in Letaba Camp because we wanted to see the elephant museum there. But our favorite spot is Masorini. The picnic spot is at the base of a koppie which you can see for miles before you get there.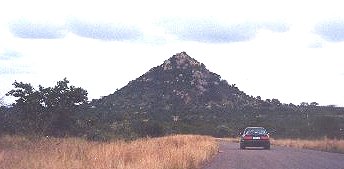 There is a nice thatched ramada there for shade. We were lucky that all our days were overcast so it wasn't as hot as it might have been.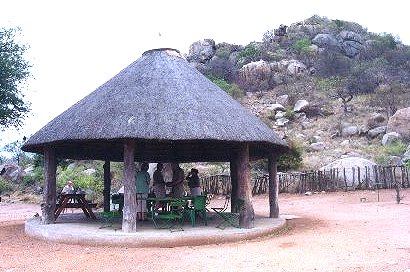 Erika and Tony go all out for every meal--no peanut butter and jelly sandwiches on a paper plate here. You can see the beautifully set table and the nice picnic basket they have. In the background the two little rondavels are the always clean and nice restrooms found at every picnic spot.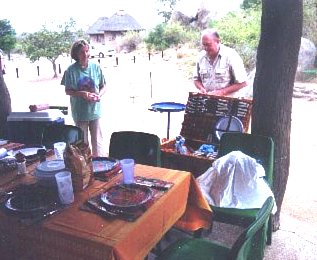 While Tony and Erika fixed the lunch we went with an armed ranger up the koppie to see the ancient iron age village that had been located there. The rifle was in case we met the resident leopard or the lions that had passed through earlier.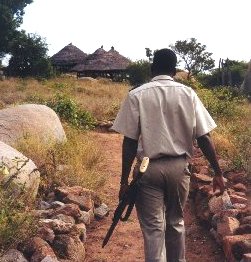 The little huts were snuggled into the hillside and from a distance looked just like more big boulders like those covering the koppie. As you can imagine, they had a commanding view of the area from up there. There were living huts, storage huts, and the larger smelter hut where they made the iron. This would have been several centuries BC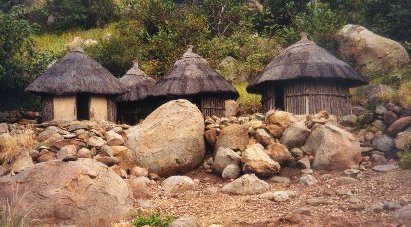 When we came back the champagne breakfast was ready.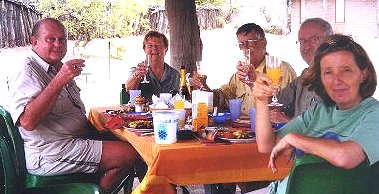 We ate at several other nice places too. The one on the left overlooked the river. At the table to the left of us, which doesn't show, the man went to get some coffee at the stand and as soon as he left a baboon jumped into his chair and grabbed the fruit off the table. He would have taken more but the lady screamed. It was a big baboon and looked very dangerous right there next to her. In fact he could be dangerous so she was lucky he ran off. Some of the park staff chased him so he wouldn't come back.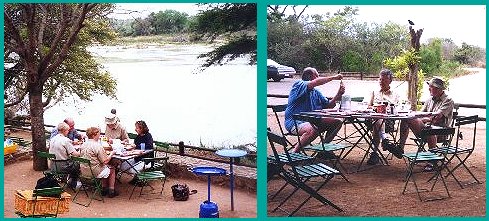 In the right hand picture Tony is opening the lunch wine. Marge is off petting the resident bush bok and I am taking pictures of weavers which you'll see in the next letter.
None of these wonderful meals would have been possible without the great planning and work by Erika and Tony. Here they are--Erika making her famous salads and Tony cooking his famous braai breakfasts.