Many of the roads in the Kruger Park go along rivers and you have to keep watching all the time to see what might be down there. Maybe a hippo in full view!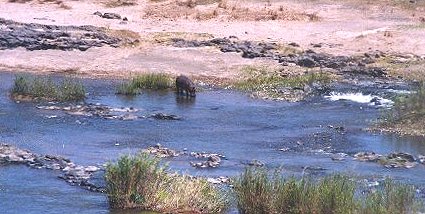 Or, even better, an elephant!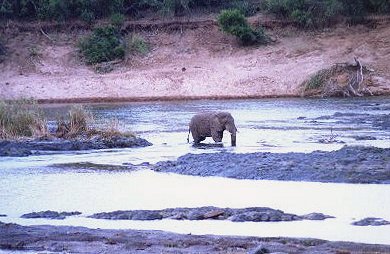 This shows the river at a normal depth. You can see up at the top of the embankment how high the flood waters were the year before last. The whole landscape was changed.
Here's another hippo--you can see how pink they are even at this distance. In deep water you don't get to see their huge bodies like this. On the far bank you can see some of the debris that was left everywhere by the floods also.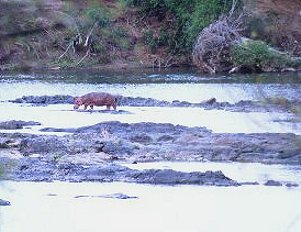 When we are at Olifants Camp we start out quite early and always stop at N'wamanzi Overlook not far from the gate. You can get out of the car there and we have our first tea and a rusk while we see what animals are down on the river. You have to watch out for monkeys and baboons up there too--more on them later. Here's what you see when you look to the left.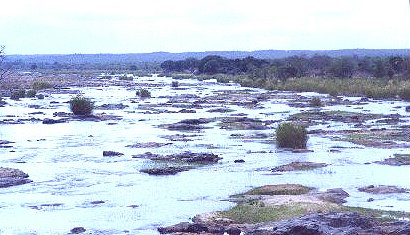 And to the right............
Near the right embankment in this direction is a sort of tunnel through the trees that is favorite place to see nice birds and hippos too.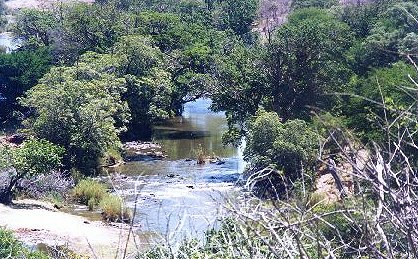 I don't have enough flower pictures to make a whole letter so I'm putting a couple in here to go with this scenery letter.