In each camp in the Kruger Park there are huts/rondavels/cabins to stay in. Because of the current poor exchange rate of the Rand to the dollar, the prices seem very, very inexpensive to us. The places we stayed in were about $28 per night for two or three beds, bath, fridge, clean towels and linens daily, and all the animals you can see! The camps are fenced so you can walk around and each has a restaurant and a winkel (souvenir and convenience type store), and some have museums too.
Here's our rondavel at Olifants Camp.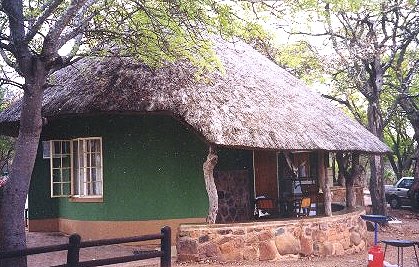 The red tank goes with Tony's 'scuttle brai', a portable wok/grill that he cooks on a lot. The other black thing is the brai grill that each rondavel has. A fire is laid in it each day for you to use if you leave your wood out for them. In the back of the porch, that piled up arrangement is the chairs and table pushed up against the door of the fridge to keep the baboons from stealing our food............again. When we got back from our first day's drive, there were food remains and baboon 'do' all over the porch. We picked up what we could and then some cleaning ladies handled the rest for us. A security guard told us later that he had chased them away before they did any more damage, but we still had to replace a lot of the food that we had brought. We learned later to turn the fridge door to the wall before we left.
Suppers were had at our place. (Sorry the fridge is hiding Marge.) Tony cooked very interesting and delicious dishes and we always had one of Erika's great salads to go with it. And Tony also served special wines with each meal. We enjoyed Amarula afterwards. Because we wanted early starts in the morning to see the animals, we usually went to bed right after the dishes were done.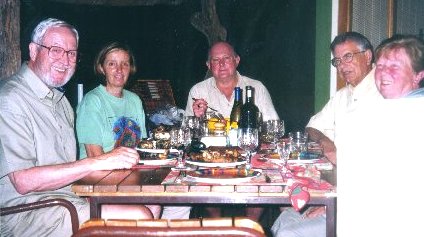 Here's one of the ladies bringing fresh towels. They also give you cute little bars of green soap.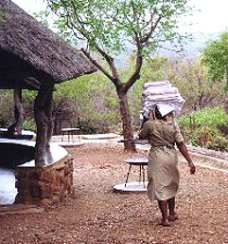 If you're with a group tour on a bus, you don't drive to your individual huts, but you don't have to worry about your luggage. The ladies carry it too. These are heavy suitcases and as soon as they are up the steps, onto their heads go the bags.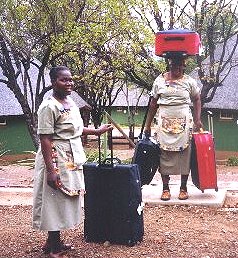 You can learn a lot more about Olifants Camp in the Africa 2000 journal, which is on my website:
www.toogoodoostudios.com