Ha, ha !! I bet when I said 'back to civilization' you thought we were going home. No such luck for you. You've seen only just over half the trip. Now is a good time to say you'd rather see the letters on the website if you're sick of all these long loads. Otherwise, here we go again. We were only in the city one night--then back to the animals.
From Duma Tau we flew in a teeny plane again to Maun. It was unbelievably hot on the tarmac at Maun--it has been said it's the hottest place in Africa. We were happy to see the cart to take us the several hundred yards to the airport building.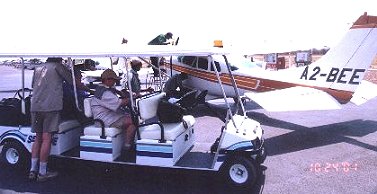 Since this was our last small plane ride and we were no longer restricted to 26 pounds of luggage, Marge and I headed across the street to the souvenir shops during the wait for our flight to Johannesburg.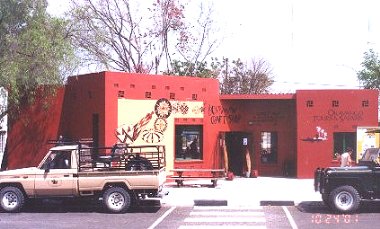 In Jo'burg we stayed overnight at the Afton Guest House, which we can recommend. It's only five minutes from the airport and Louie, the owner, picks you up and takes you back the next morning. Here's the entrance.
And here's the backyard where we relaxed and watched the birds at their feeders. On one feeder they had chunks of raw meat, which I found interesting! For small raptors and shrikes it seems.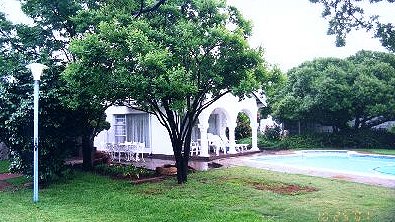 Around seven, our e-friends, Herman and Petro DuToit, picked us up to go out to dinner. They took us to Caesar's, a new huge mall, hotel, gambling casino complex not far from the airport.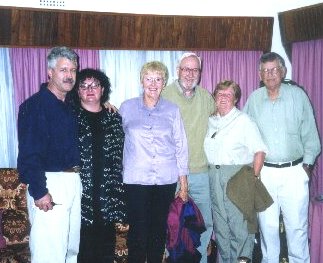 We ate at Cleopatra's Barge, a magnificent buffet restaurant with the largest selection of every course that we had ever seen. We tried all sorts of things! Also with the Rand being so low in comparison to the dollar, the meal was unbelievably inexpensive! It was about one fourth of what I would have expected at a comparable restaurant here. Some more e-friends, Shirli and Bruce Hill, joined us for dinner and we had the best time! We have corresponded with these people for several years now and it was just as though we had known them all our lives and that we got together for dinner every week or so, not that we were all meeting for the first time.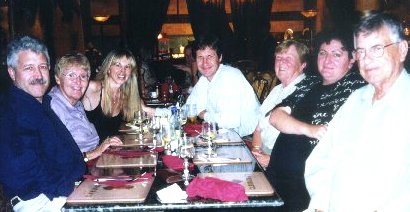 We were having such a good time that we ended up closing the restaurant. Here's a picture of us taken by the man who brought out the vacuum.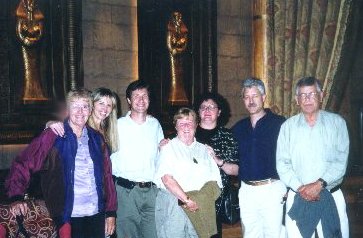 Those of you who worry about being in darkest Africa, keep in mind there are some very civilized places too. Although this Caesar's was pretty wild and jumping!
The next morning we were off to Phalaborwa on the edge of the Kruger National Park in South Africa, where the e-friends that we stayed with on our last trip met us and we prepared for the next adventure.