It was interesting to see the different ages of elephants. Here is a teenager who objected to our being there and came rapidly out of the water............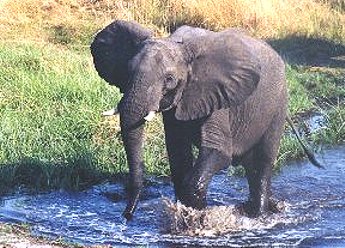 ..............shaking his head, curling his trunk and waving his ears...........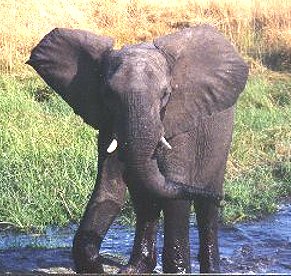 I guess we didn't react enough. He looked as though he was thinking, "Hey, you're supposed to be scared, I don't know what else to do."
We also came across a lot of old elephants. Here's one. His tusks are very worn. You've heard that old elephants go away to die. Actually, they have six sets of molars which come in one after another as the previous set gets worn out. After the sixth set gets worn out, the elephant has trouble eating his normal diet of branches, leaves, etc., and has to leave the group to find soft grasses to eat. Eventually it is unable to eat enough to live.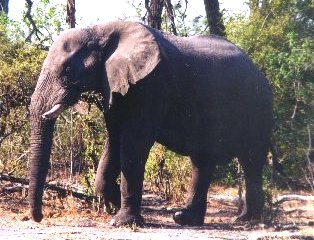 There was a very old elephant named George that hung around the camp. It was easy to know which one he was by the hole in his forehead.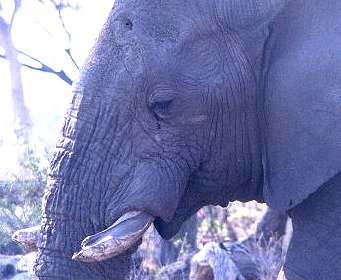 Look how worn his tusks are. The camp managers said he was over 60! We watched him wander along eating. He tried to pull a plant up with his trunk.........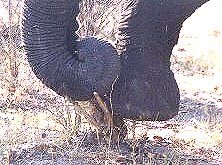 .....and then he put his foot on it--we thought to hold it down, but our ranger told us he was using the special toenail on the front of his foot to cut it.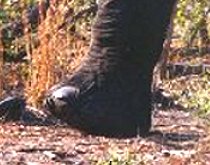 We got pretty good at recognizing one of these too. Although it looks like one footprint, it's really two, one right on top of the other, which is how they walk. This one was walking to the right. You can tell by the smudge on the front edge of the print where the toe dragged a little.