There are so many interesting animals besides the big cats, elephants and giraffes. The delicate little steenbok are so cute--no bigger than a large dog but with the skinniest little legs. I don't know why they don't break. They stay in pairs, not in herds like impala, so they are harder to come across.
Waterbok are unusual in that most predators don't care for the way they taste. They have a oil beneath their skin that makes then unattractive as prey. They have very shaggy coats and a distinctive white circle around their rears. Last year we were told this is a target to help the nearsighted males. This year they said it was known as a toilet seat. Of course, it's actually it's for the babies to follow. Those trees you can see way in the distance are in the Caprivi strip of Namibia. This whole area will be underwater when the rains come and the Linyanti River rises.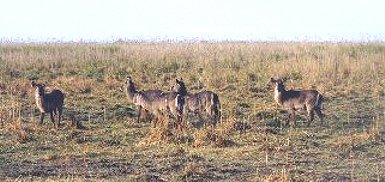 Waterbok female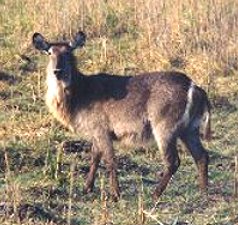 You can't see the buffalo in this picture very well, but I really like the scene. It's so 'out of Africa' and so painterly, except I'd have to move those trees out of the center.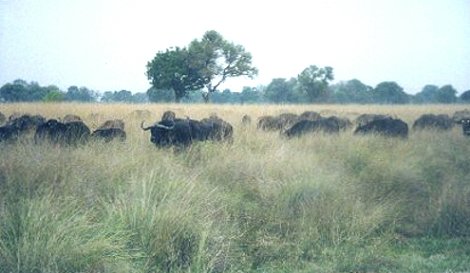 We often saw warthogs--so ugly they're cute. I love the way they truck along. This group were unusual in that they had quite luxurious manes and very outstanding whiskers.

They can be very fierce and protective of their family. The male sends the babies and mother down a hole and then he himself backs in so that he's ready to attack any predator that tries to come down the hole after them. This big male is from a different group as you can tell by the skimpy mane and lack of whiskers, but you can see he's well equipped to defend himself--warts and all.