It was quite a treat to see Jao. It's one of what Wilderness calls its 'premium' camps, which basically means it costs more than twice what the others do. Our 'tent'--well, it did have canvas walls--measured 20 feet by 60 feet !!! One long wall was entirely screen for constant viewing. The decor was sort of Cleopatra visits Shaka Kahn's fortress mixed with a turn of the century safari. Each tent had a long porch facing the bush.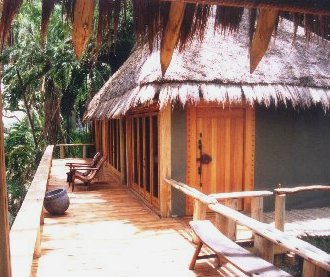 In the other direction the porch had a gazebo with a bed in it. Bill and I fell asleep out there after lunch. A noise awakened us and the baboons were only four meters away investigating everything.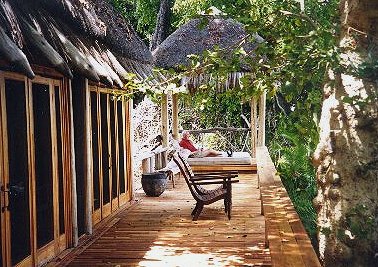 Inside seemed as big as our house. It had a lounge area, a bed area and an enormous bath area. Here's looking from the bath towards the front door.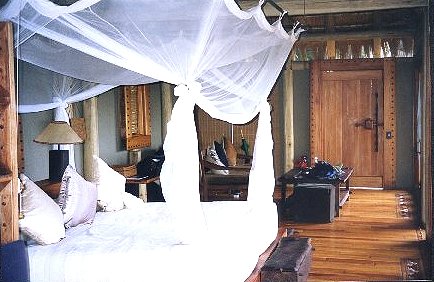 And then here's looking the other way. That door goes to the giant outdoor shower. Before you get to that door, there is a full en suite bath too, as well as the antique footed tub. The island has two sinks and the shampoo and body lotion are in crystal flagons.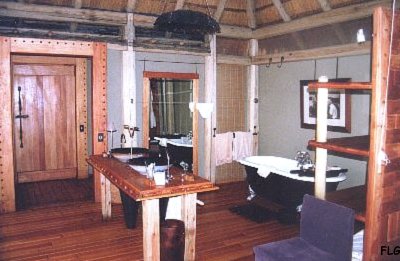 No matter how fancy, the tent still had its little visitors!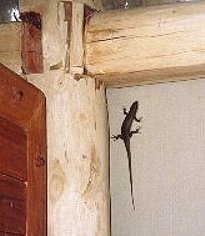 Jao would be a great place for a honeymoon! Actually, because it had only been a game reserve for a couple of years, the animal viewing wasn't so great. The game still remembered when it had been a hunting concession. We saw lots of red lechwe and baboons, and of course, lions.