It's amazing the rapport that can build up between you and your ranger and tracker in just a couple of days. Here we are with Maipaa, our guide, and 'Nkosi, his spotter.
(My shirt was green, not white, which is a no-no.)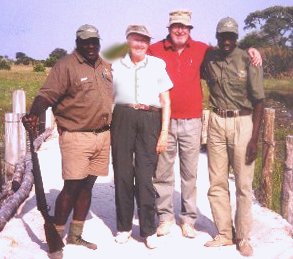 Maipaa was a constant font of knowledge, not only of the animals, but all the local uses of plants, and also great stories. Here he was showing us how to make thread from a palm frond and a needle from a thorn.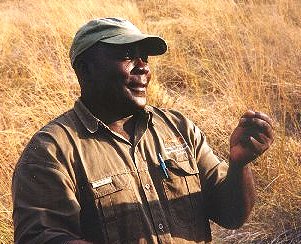 One evening before dinner, we heard singing from outside the boma. African singing is so beautiful--their natural harmonies and the men's deep resonant voices are marvelous. The whole staff gathered to give us a program.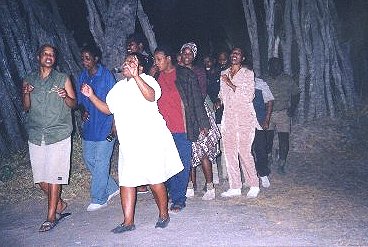 The lady in white was one of the leaders and she would sing a line and the chorus would answer, often using the same phrase over and over which made it easy for us to join in after a while even though we had no idea what we were singing.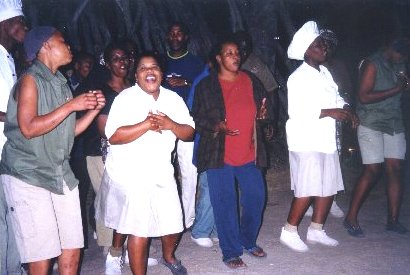 The songs were all about their life in the village and featured lots of animals that the men represented wonderfully.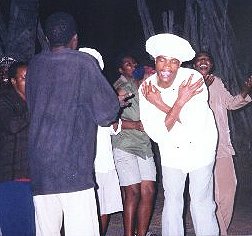 Then after about a half hour of this great entertainment, everyone went back to their jobs and we enjoyed another super dinner.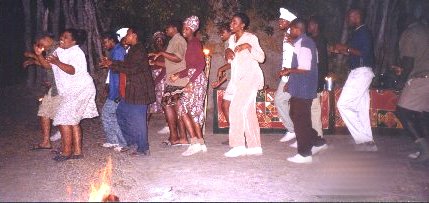 That's Maipaa on the far right. He did a mean bull for one of the songs. It's always so pleasant to meet these people--never a sullen one in the bunch. And they work very hard--seven days a week for three months and then two weeks off.