The first camp we went to was Ongava located on the southwest corner of the Etosha Pan National Park in northern Namibia. We flew to Atlanta, to Jo'burg, to Windhoek, to Ongava in progressively smaller planes--over 30 hours between beds.
Here's the Lapa at Ongava where we gathered and ate and watched the animals at the waterhole.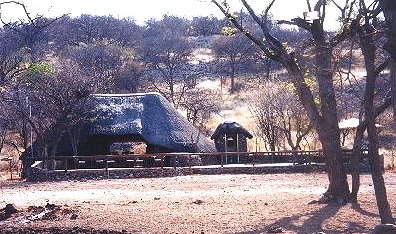 A typical day was to be awakened before dawn, have a light breakfast, go for a morning drive till about 10:00, after which it's too hot for man and beast to be out. Here's the vehicle and the refreshment and wet cloth that awaits when we return.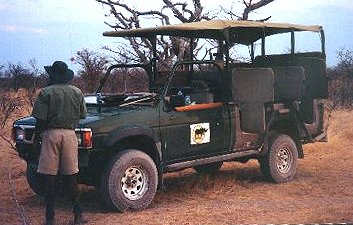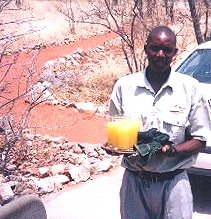 It was very hot, dry and windy--it was hard to drink as much water as we should. The animals too were very thirsty and drawn to the waterhole in front of the lapa.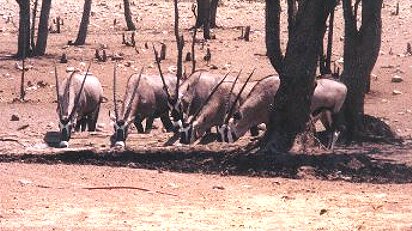 Gemsbok or Oryx
After the morning drive, we have a large brunch and then retire to our tents to nap, write, do undy laundry, etc.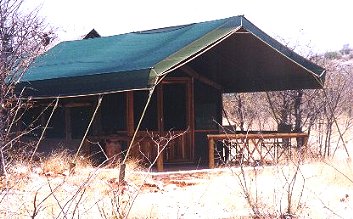 Then about 4:00 we have tea and cake and go out again. Before dark, we stop for 'sundowners' and the sunset.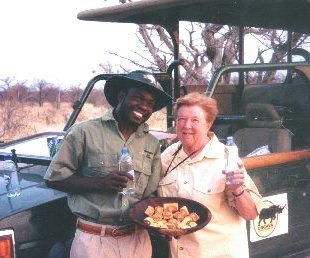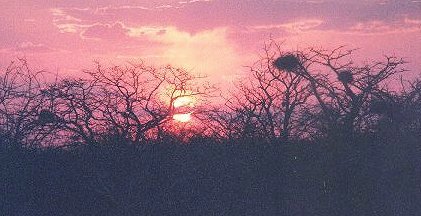 There is some night driving on the way back. They are very careful not to shine the spotlights into the eyes of any of the diurnal animals. It's a good time to see things like African wild cat and genet which are not seen in the daytime. We also saw a big porcupine. When we get back there is a big dinner in the Boma and then we fall into bed. This routine is pretty much the same in all the camps, since all the ones we stayed in are run by Wilderness Safaris, whom we recommend highly.